When it comes to creating a truly immersive and high-quality audio experience in the comfort of your own home, AV receivers play a pivotal role. These multifunctional devices serve as the heart of your home audio setup, bringing together various audio and video components and transforming them into a cohesive and seamless entertainment system. In this introduction, we will explore the vital importance of AV receivers in home audio systems, highlighting the key reasons why they are a must-have for any audio enthusiast or home theater lover.
What is an AV Receiver?
An AV receiver, short for Audio-Visual receiver, is a sophisticated electronic device that serves as the central hub of a home audio and video system. It acts as a crucial bridge between various audio and video components, ensuring seamless integration and enhancing the overall entertainment experience. AV receivers are equipped with a range of functions and features that make them an essential component in any modern home theater or audio setup.
At its core, an AV receiver is designed to receive audio and video signals from different sources, process and amplify the signals, and distribute them to various output devices like speakers and displays. It acts as a control center, allowing users to manage and adjust settings, switch between input sources, and customize audio preferences, all from a single interface.
AV receivers are widely used in home entertainment setups, connecting devices like Blu-ray players, gaming consoles, media streamers, set-top boxes, CD players, turntables, and more. They support a variety of audio formats and video resolutions, ensuring compatibility with the latest standards and technology advancements.
Comparing the Top AV Receiver Brands
Several top brands compete to offer the best audio and video performance, user-friendly interfaces, and innovative features. Each brand has its unique strengths and offerings, making it essential to compare them to find the best fit for your audio needs and preferences. In this comparison, we will explore some of the top AV receiver brands and their key features:
Yamaha
Audio Performance: Renowned for delivering powerful and clear audio performance with high-quality sound reproduction.
Surround Sound Capabilities: Offers advanced surround sound technologies like Dolby Atmos and DTS:X for immersive 3D audio experiences.
MusicCast Technology: Allows seamless multi-room audio streaming and control, enabling users to create a network of MusicCast-enabled devices throughout their home.
Wireless Connectivity: Many Yamaha receivers come with built-in Wi-Fi and Bluetooth, making it easy to stream music from smartphones and other devices.
User Interface: Yamaha's receivers typically feature user-friendly interfaces and well-designed remote controls.
Denon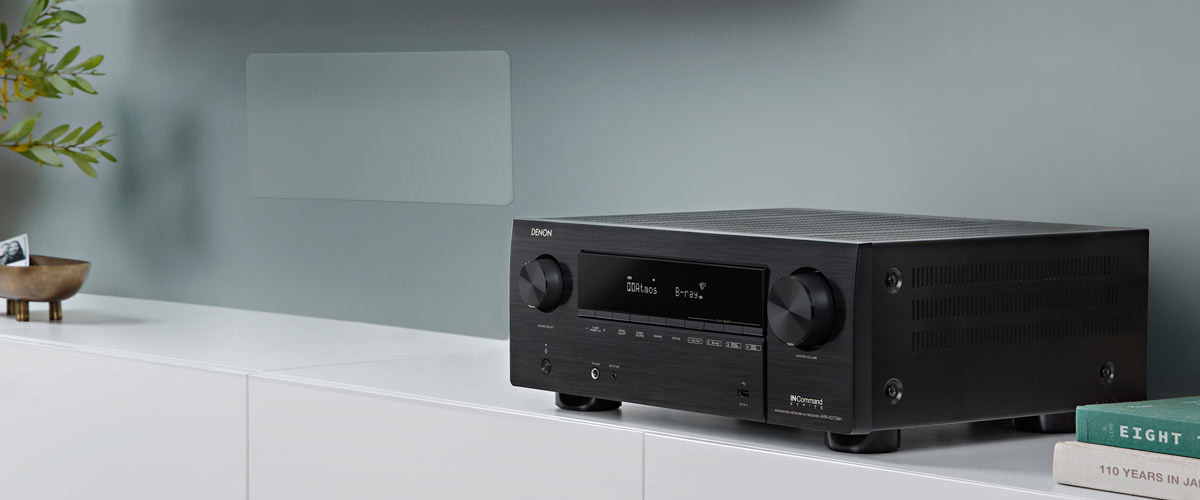 Amplification and Power Output: Denon receivers are known for their robust amplification, providing clean and distortion-free power to speakers and subwoofers.
HEOS Integration: Offers HEOS wireless multi-room audio technology, allowing users to create a whole-home audio system with HEOS-compatible speakers.
Audyssey Room Correction: Utilizes advanced Audyssey room correction technology to optimize audio performance based on the specific room acoustics.
High-Resolution Audio Support: Many Denon receivers support high-resolution audio formats, ensuring audiophiles enjoy the best audio quality.
App Control: Denon's app provides convenient control and customization of audio settings via smartphones and tablets.
Onkyo
THX Certified: Many Onkyo receivers are THX certified, guaranteeing high-quality audio performance that meets strict industry standards.
AccuEQ Room Calibration: Employs AccuEQ room calibration technology to adjust audio settings according to the room's acoustics for optimal sound quality.
Dynamic Audio Amplification: Onkyo's receivers feature Dynamic Audio Amplification, delivering accurate and powerful sound across all channels.
Google Chromecast Built-in: Some models offer built-in Google Chromecast, enabling users to stream music from various apps directly to the receiver.
Multi-Zone Audio: Allows users to enjoy different audio sources in different rooms simultaneously with the multi-zone feature.
When comparing Yamaha vs Denon vs Onkyo AV receivers, consider factors such as audio performance, surround sound capabilities, connectivity options, room calibration technologies, and smart home integration. Additionally, assess the brands based on their compatibility with your existing audio setup and preferred audio sources. The right choice will ultimately depend on your specific audio needs, desired features, and budget constraints.